Row Wrapper 2
Sunset Lodge
Capacity
4 Bedrooms
3 Bath
Sleeps 12
About
Enjoy this upscale Four bedroom, three-bathroom Private home with a large wrap-around deck.

Families and Friends can enjoy the game room located on the bottom floor of the three-story home!   Pool table, Ping-Pong, air hockey, and foosball tables. This spacious lodge can accommodate a maximum of 12 people.



On the main floor, you will find a king and queen bedroom that share a bathroom with a whirlpool tub as well a second queen bedroom with a full bathroom.  Upstairs in the 'kids' room, you will find two sets of bunk beds, a TV, and another full bathroom.  Additional amenities include a queen sleeper sofa in the living room, a futon, and a private washer and dryer.



Located in an appealing wooded property a 1/4 mile up the Killington Access road.   Perfect private home for all families and your favorite traveling companions! This beautifully decorated lodge is perfect for Skiers, Snowboarders, and those who love the beautiful fall foliage.   

You will also be within minutes to the Gifford Woods State Park, Killington, and Pico Mountains.



Sunset Lodge will give you all the cozy comforts for your trip to Killington.  Plenty of comfortable living space sporting exposed beam ceilings, large windows to filter in light to brighten your days and show off the surrounding wooded view.   After your day of hitting the slopes, you can keep toasty warm by the wood fireplace.  Relax while watching your favorite shows on the large flat-screen TV or bring your favorite movies using the DVD and VCR players.   Enjoy streaming your favorite shows/movies, browsing the internet using high-speed Wi-Fi. 

A beautiful kitchen with granite countertops, lots of cookware to enjoy those home-cooked meals with your family.  Too tired to cook? Don't worry you are minutes from the dining Killington has to offer!   Enjoy your mornings at the breakfast bar drinking your favorite cup of coffee or having your big breakfast in the adjacent room that seats eight.  Don't worry about doing the dishes, take advantage of loading the dishwasher to clean up so you can head out for your daily activities!



Whether you are in Killington during the warm summers or cooler colorful autumn days and nights, you can keep on making memories with your traveling companions!  The wrap-around deck features an outdoor grill or you can move inside to the private game room for friendly competitions of Ping-Pong, pool, foosball, and air hockey!    

There is abundant recreation Killington offers.  Sunset Lodge is a perfect location to stay to be close to nearby golf courses, Killington's summertime mountain attractions of hiking, mountain bikes, beast coaster, zip line, and much more.  Wintertime offers up to 155 Ski trails, 22 lifts, and 1500 acres of terrain to explore!   So much is offered right outside your door - don't miss out!



Main Level

Living Room

Wood burning fireplace

60" flat-screen TV Bluetooth enabled soundbar as well built

in Roku, Netflix enabled.

Queen Sleeper Sofa

Fully equipped Kitchen which includes

2 bar stools

Granite Countertops

Electric Flat top stove

Four slice toaster

Blender

Coffee pot

Microwave

Dishwasher

Dining Area seats 10

Family Room

50" Flat-screen TV

DVD player

Extra table seats 4



Bedroom 

Queen Bed

CD player

Attached to Full bath with a Whirlpool tub



Bedroom

King bed with 45" TV

DVD player



Bedroom

Queen Bed

Full bath



Upper Level

Two twin bunk bed sets

Queen Futon

Attached Full bathroom

50" Flat-screen TV



Lower Level

Game room with

Ping Pong Table

Foosball 

Air hockey

Pool Table

Washer/Dryer



WIFI



NO SMOKING NO PETS



Meals and Room Tax ID#  MRT-10062959

Town of Killington STR Registration #327
Sleeping Arrangements
Master bedroom with queen bed
1 queen bed
Bedroom with king bed
1 king bed
Bedroom with queen bed
1 queen bed
Bedroom with two sets of bunk beds
2 bunk beds
Features
Amenities
Kitchen
Dining Area
Refrigerator
Coffee Maker
Microwave
Dishwasher
Dishes Utensils
Stove
Toaster
Oven
Fireplace
Parking
Game Room
Parking space
Towels provided
Private Entrance
Bed Linens
Suitability
Carbon Monoxide Detector
Smoke Detector
Outdoor Lighting
Children Welcome
Pets Not Allowed
Smoking Not Allowed
Photos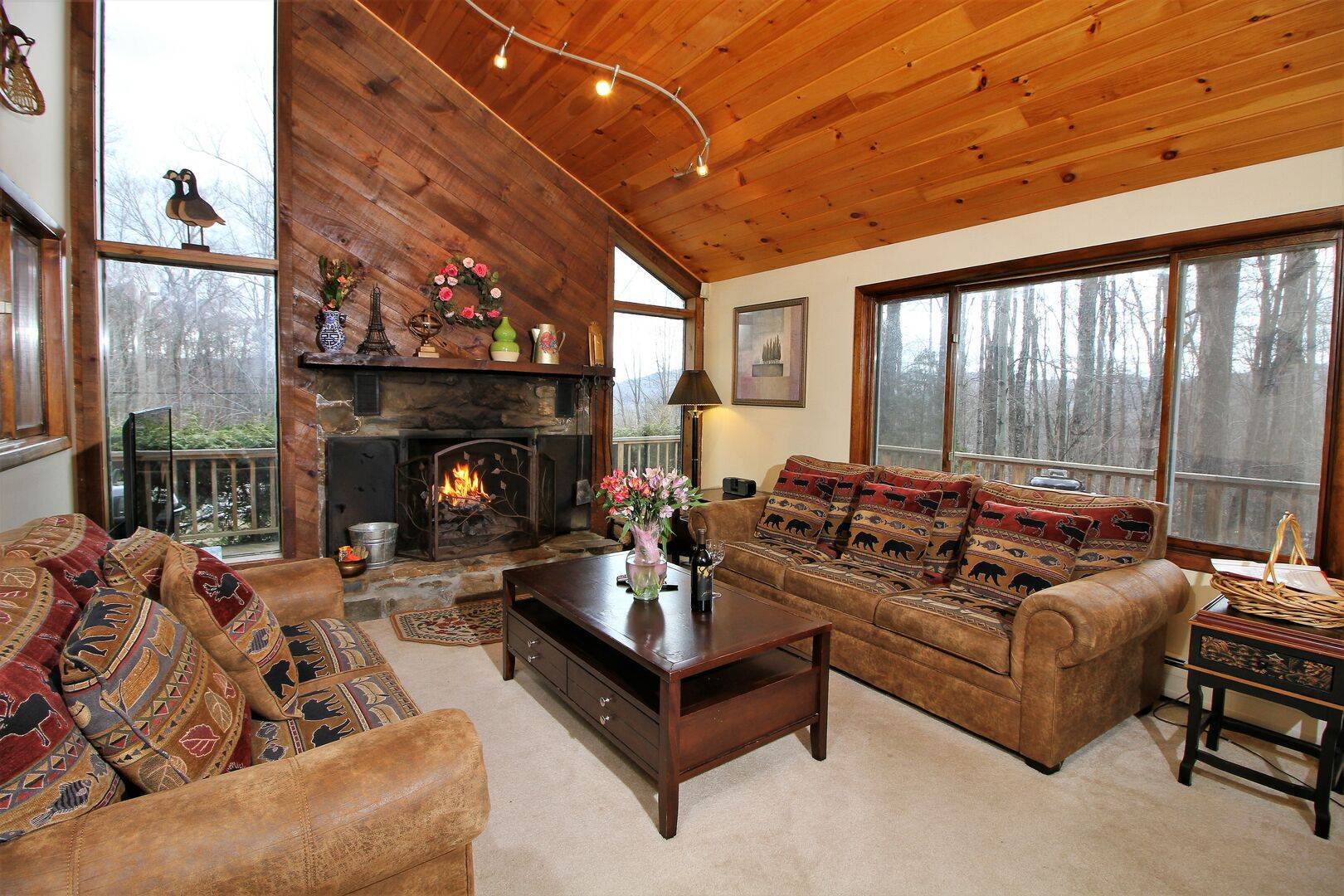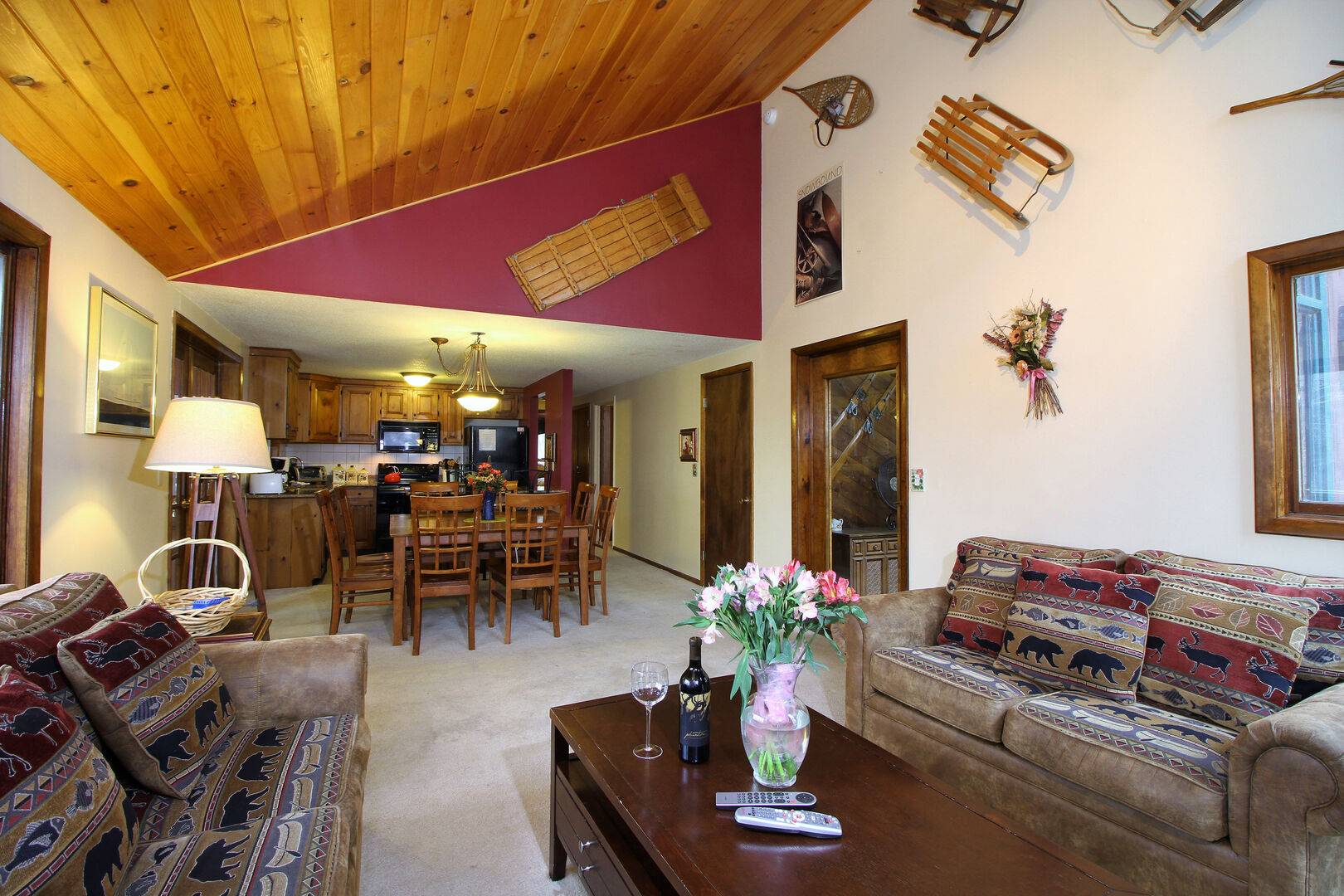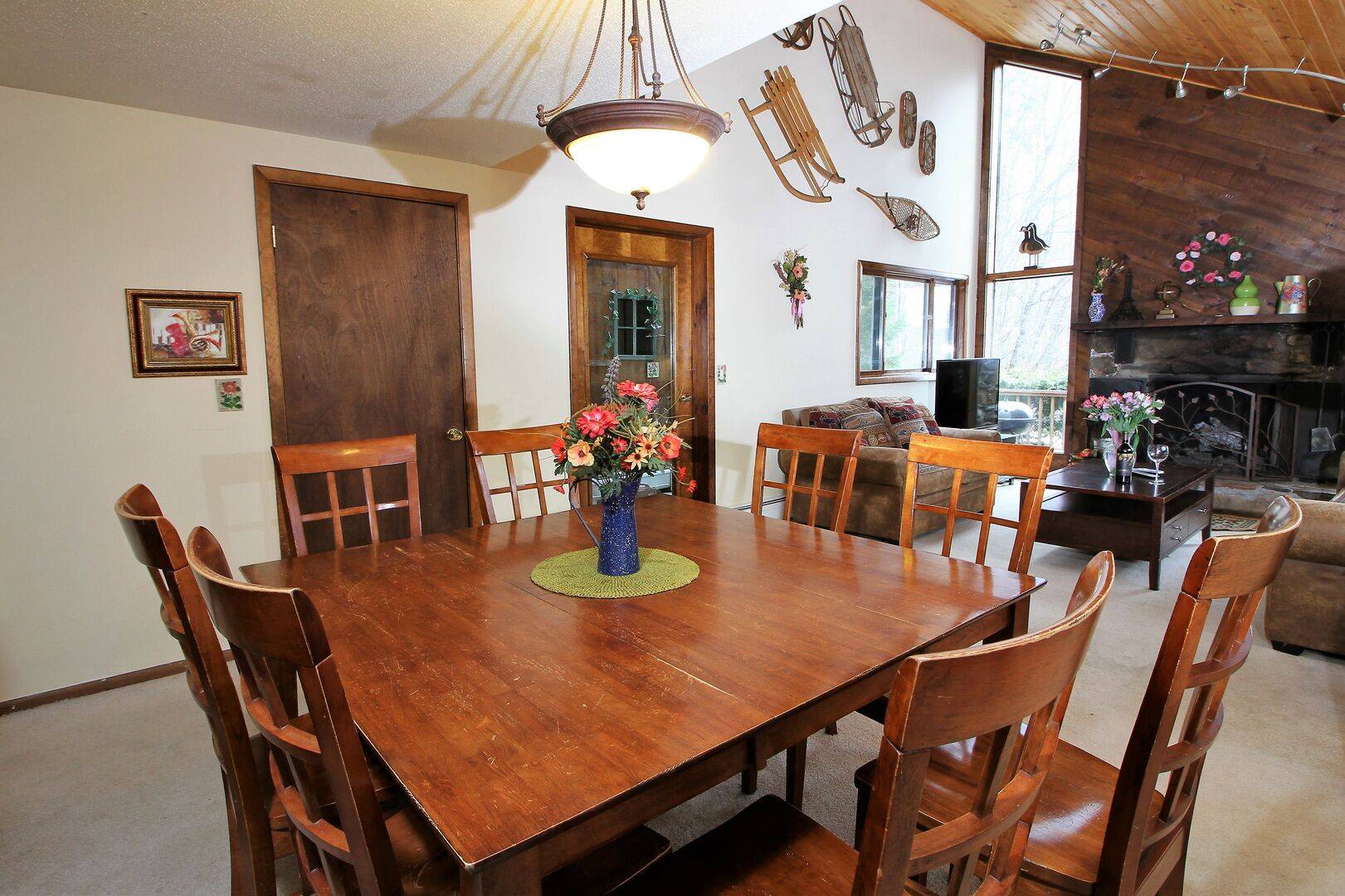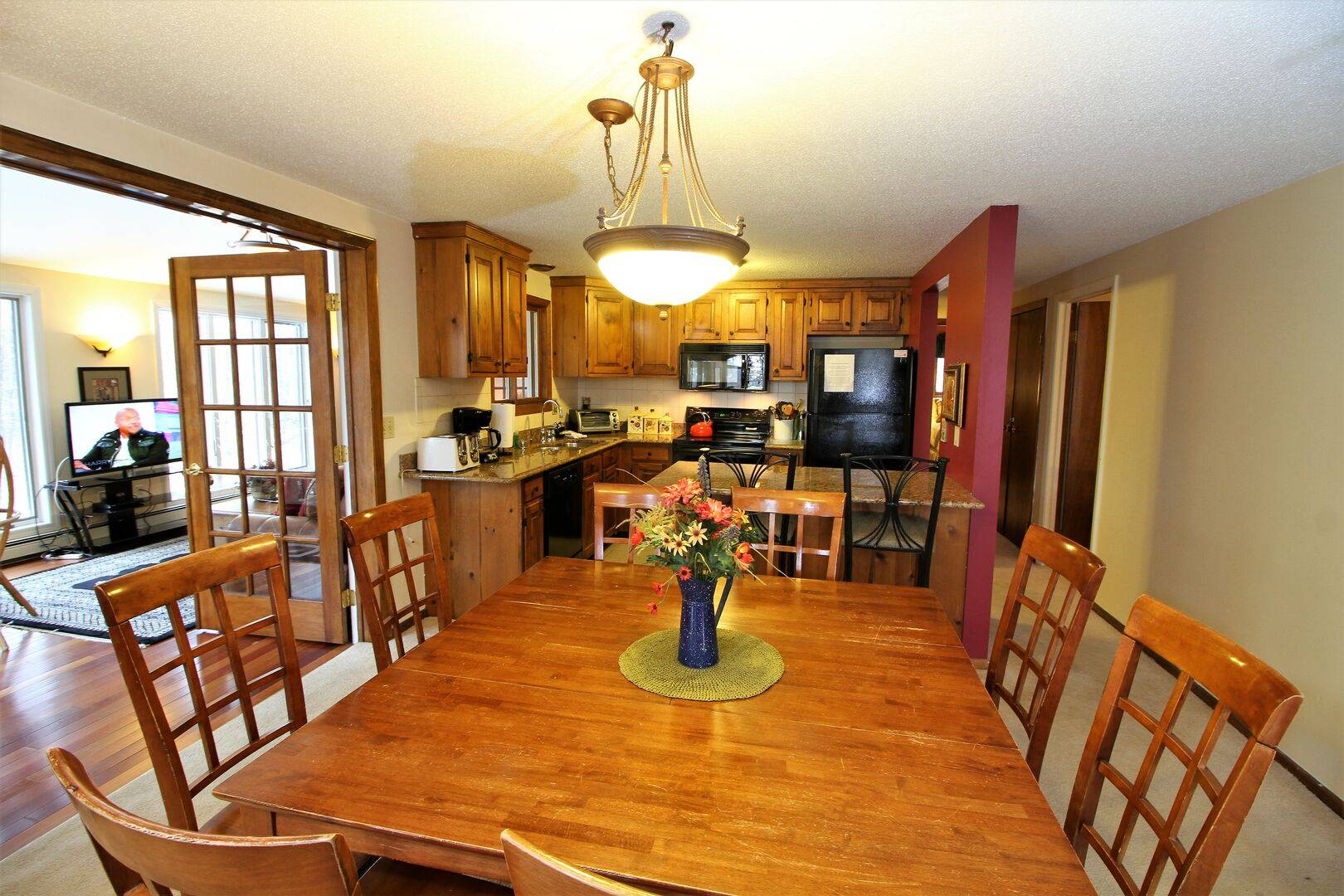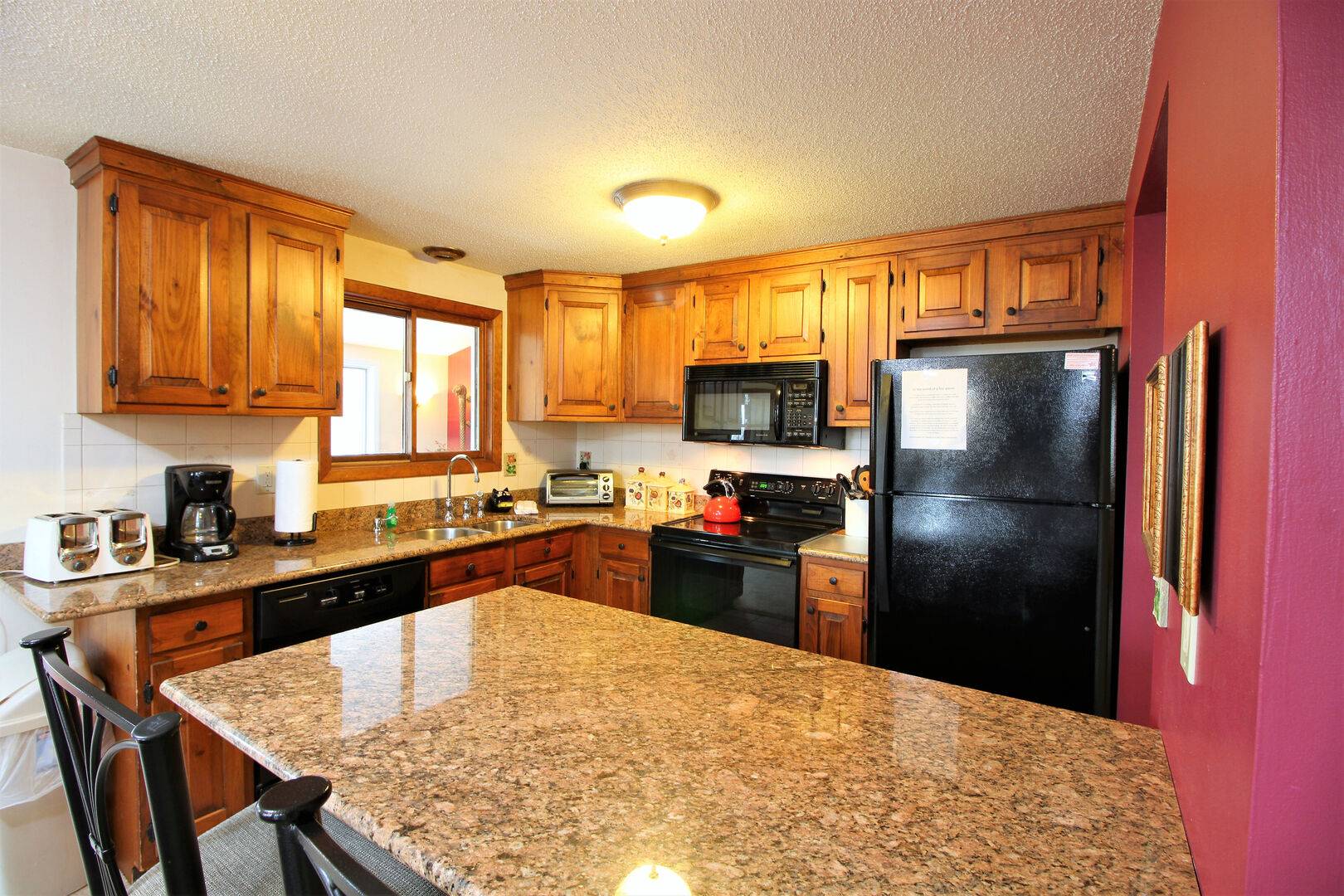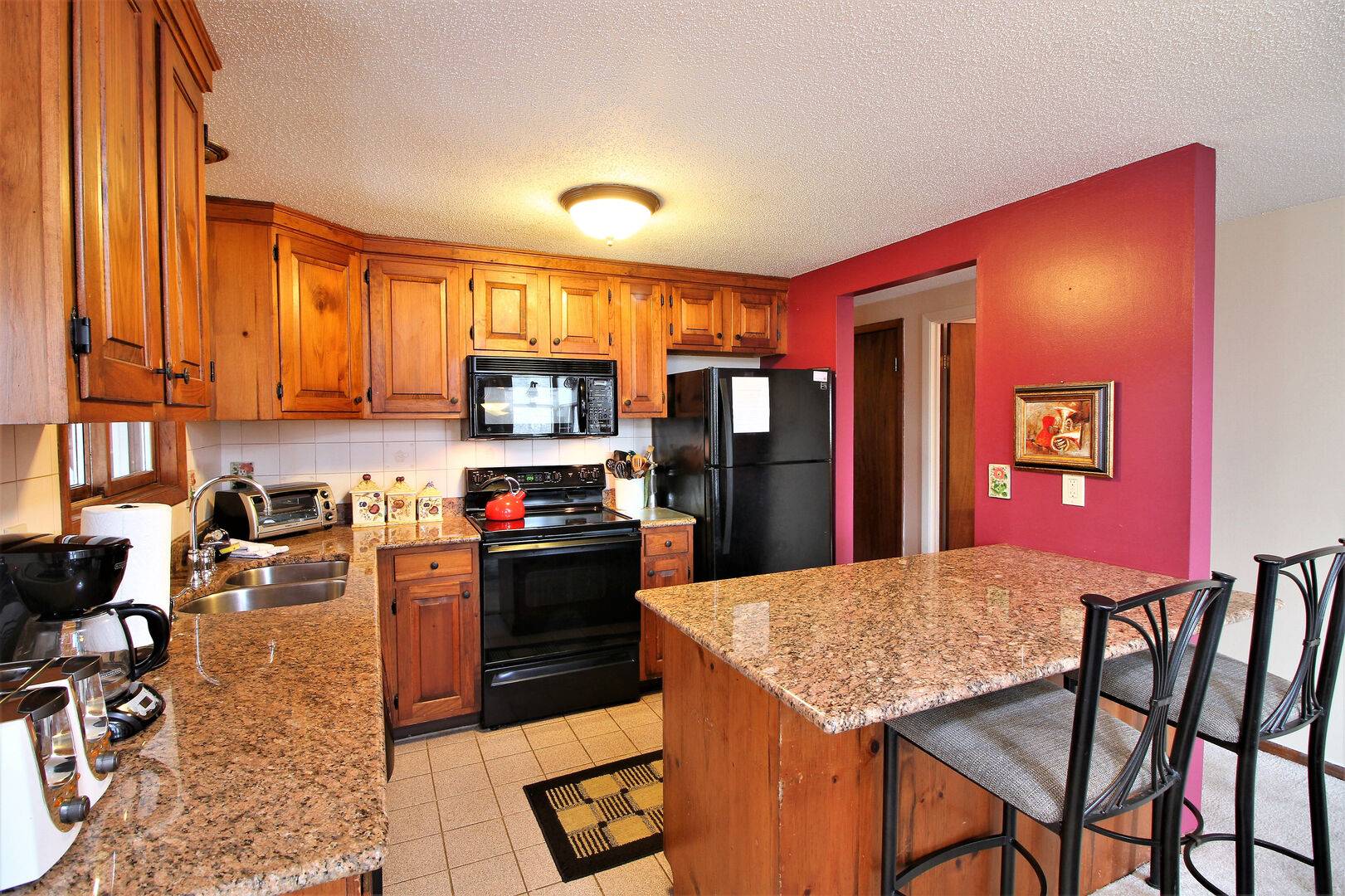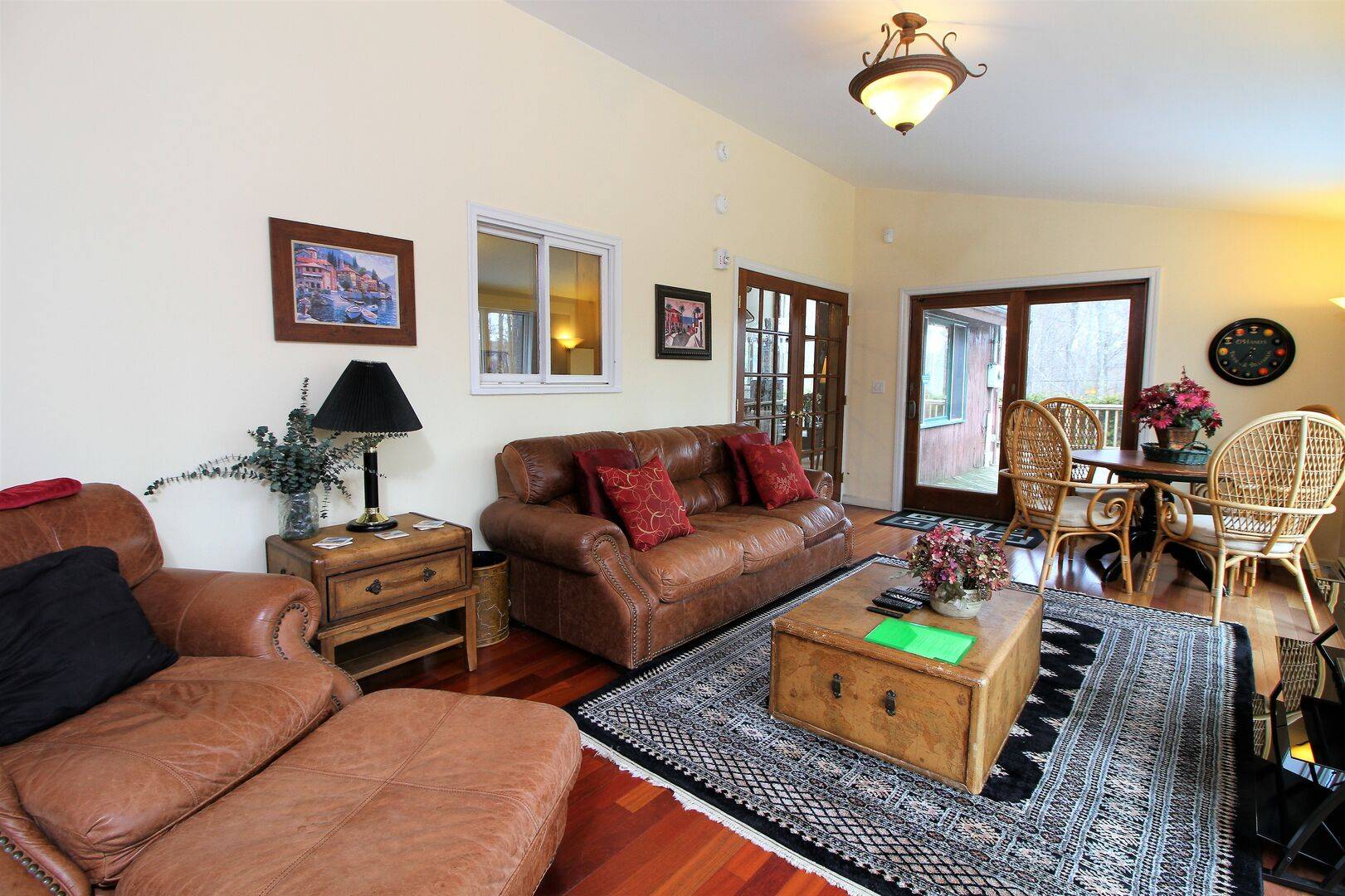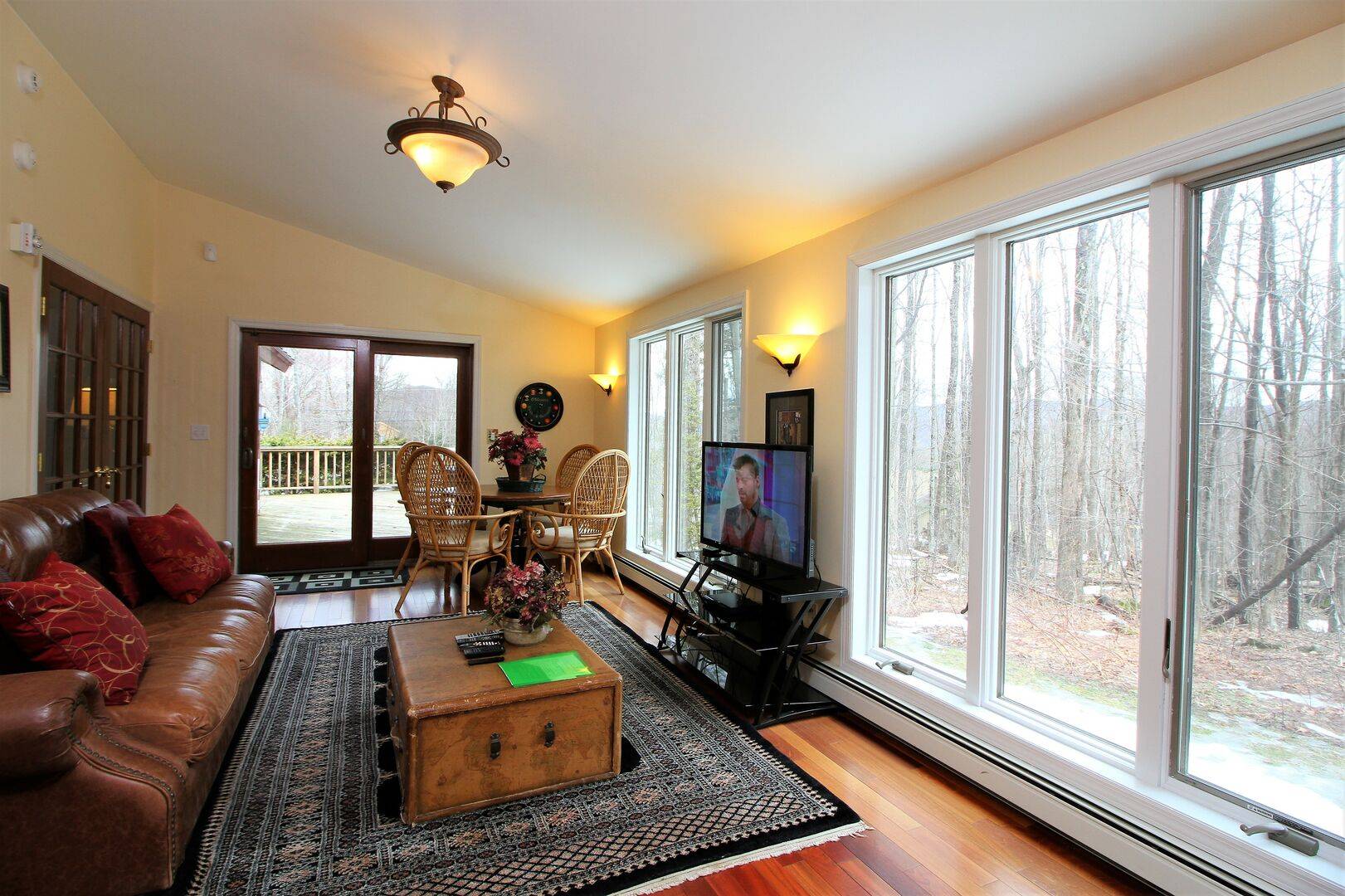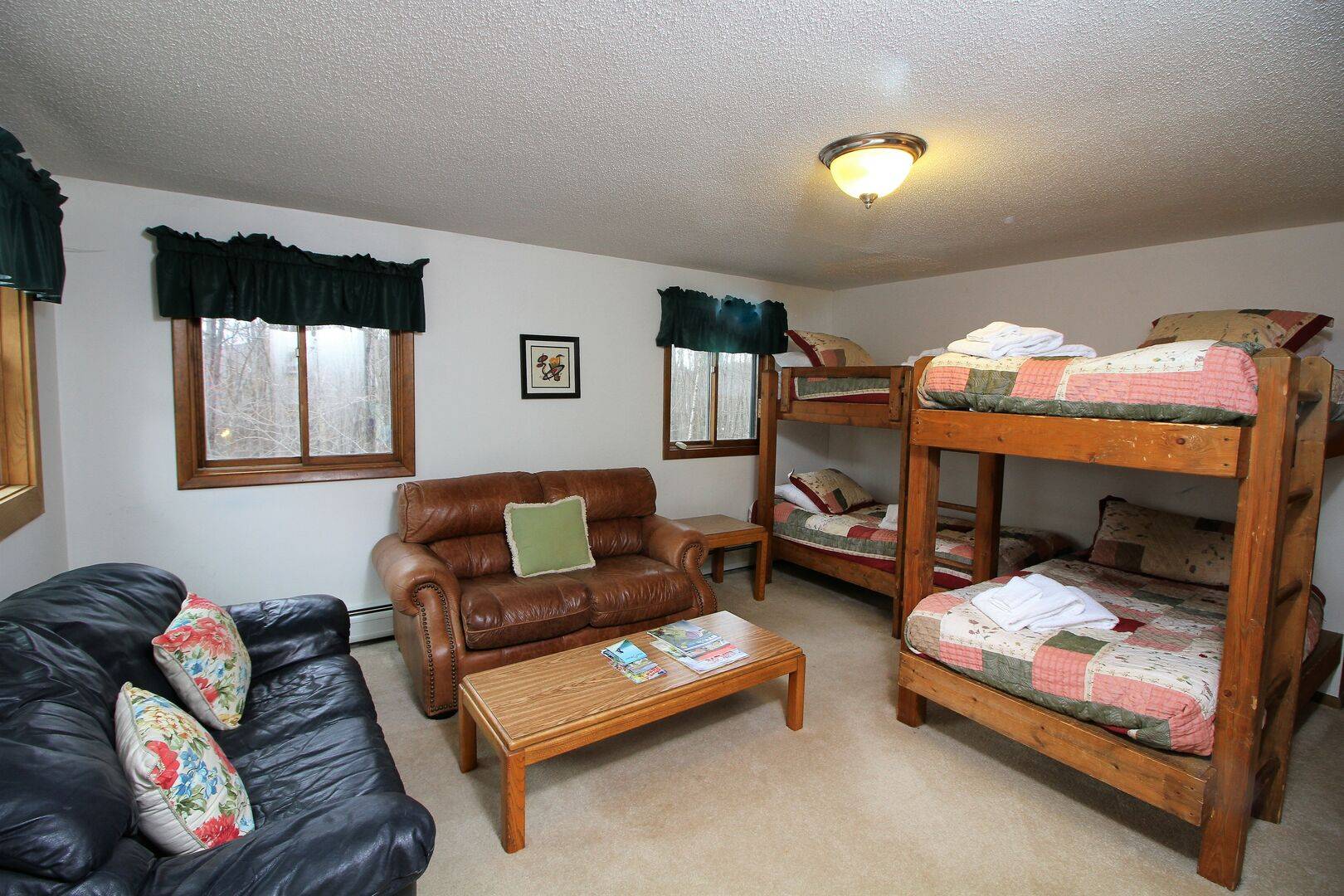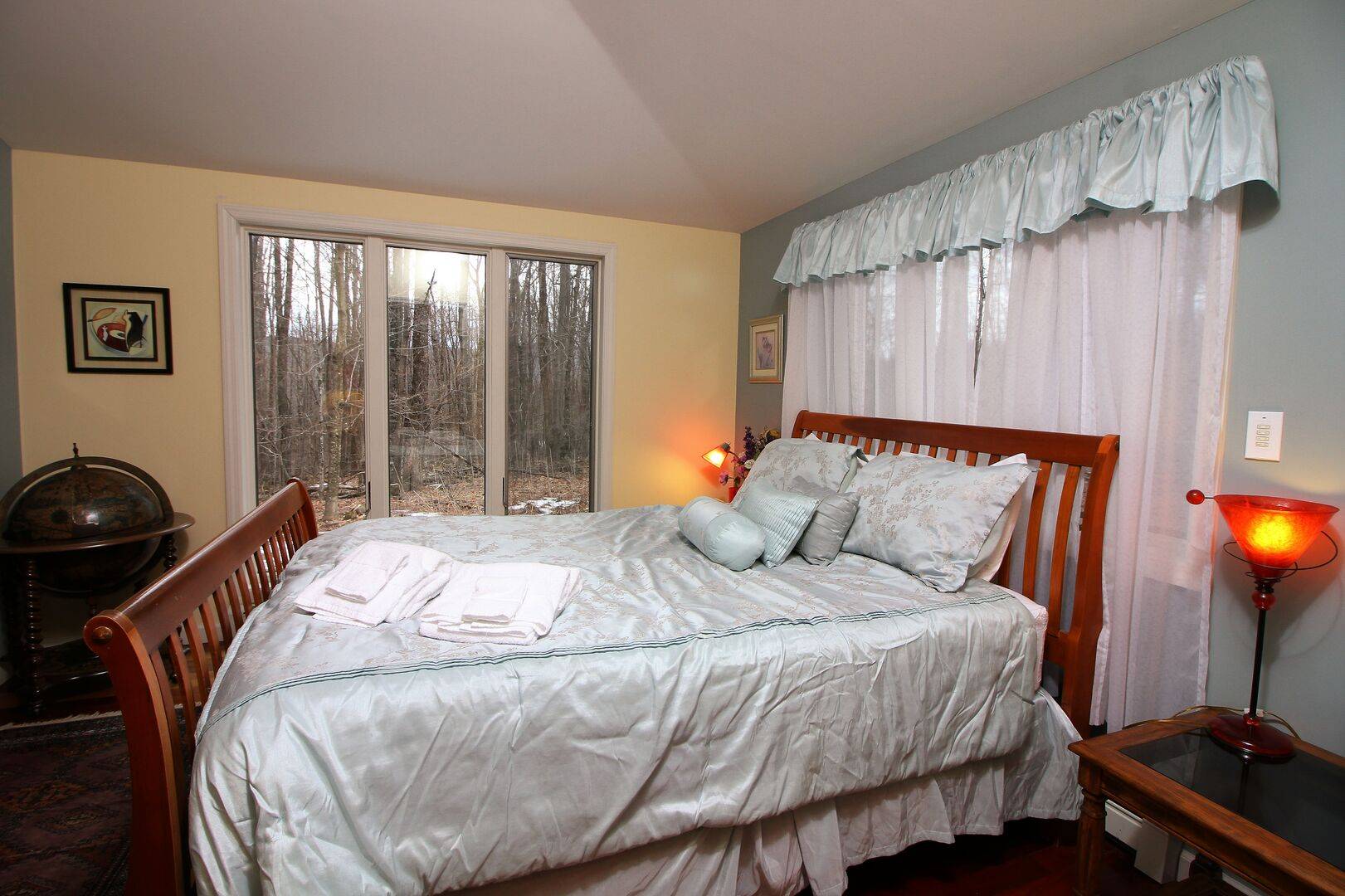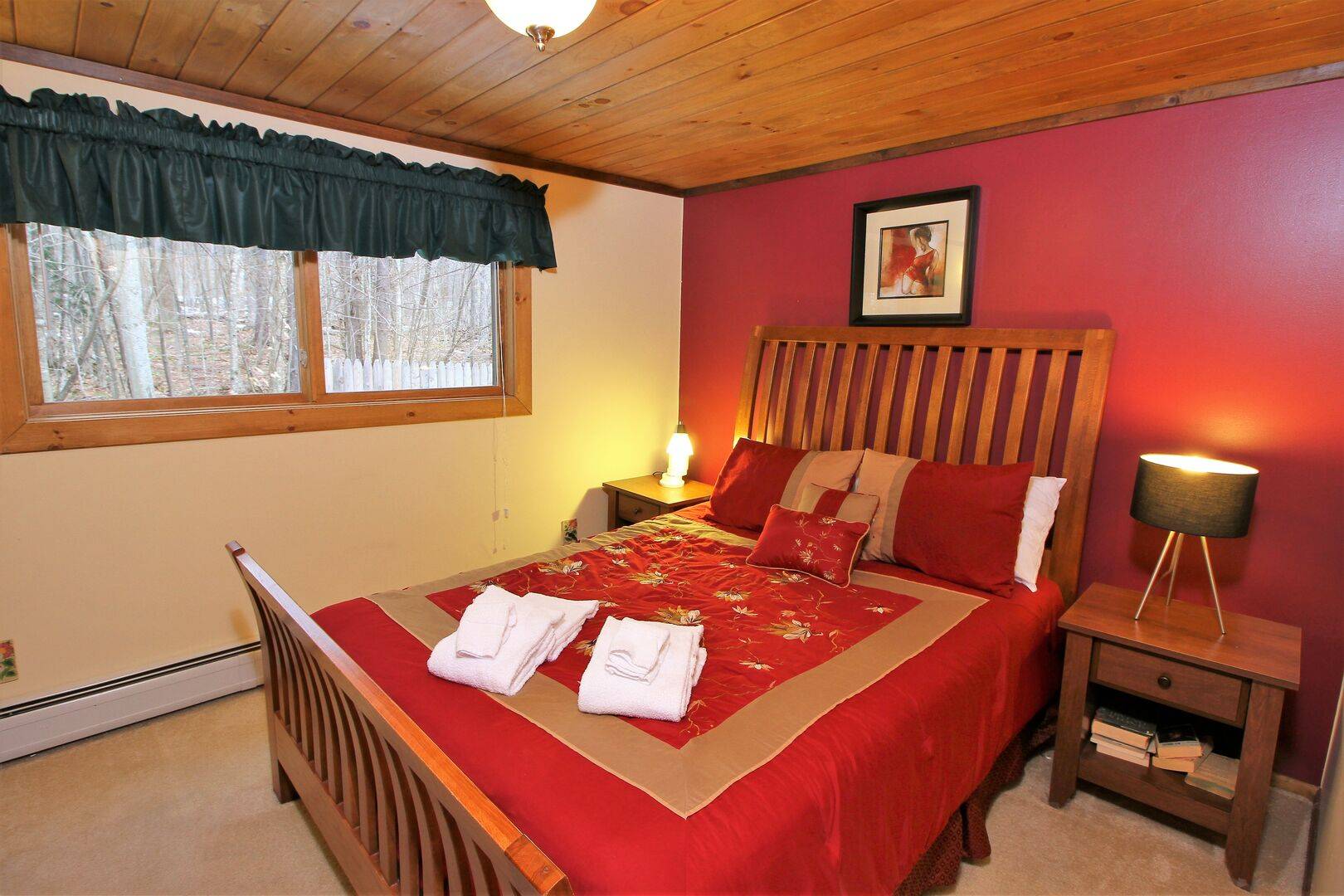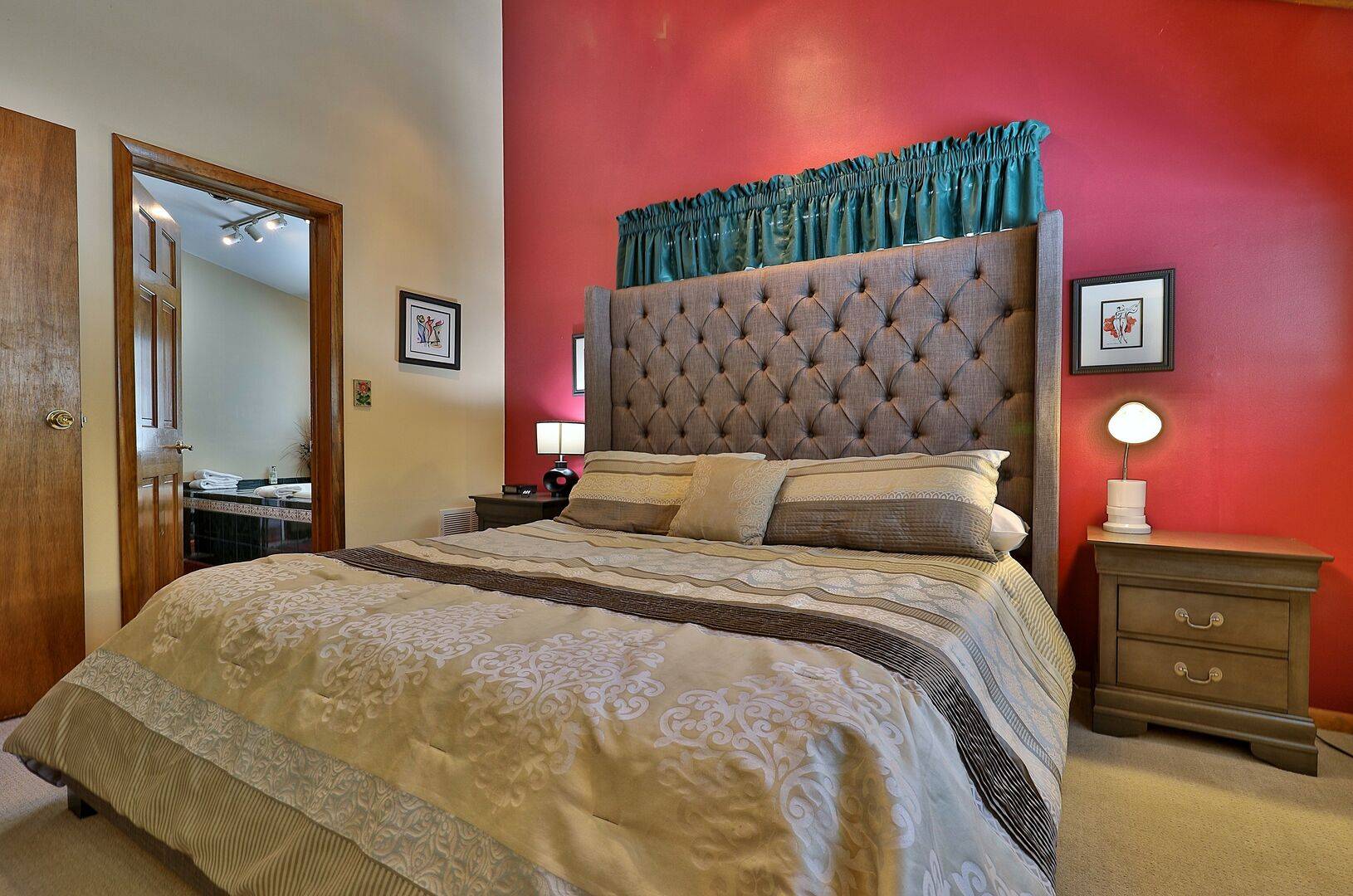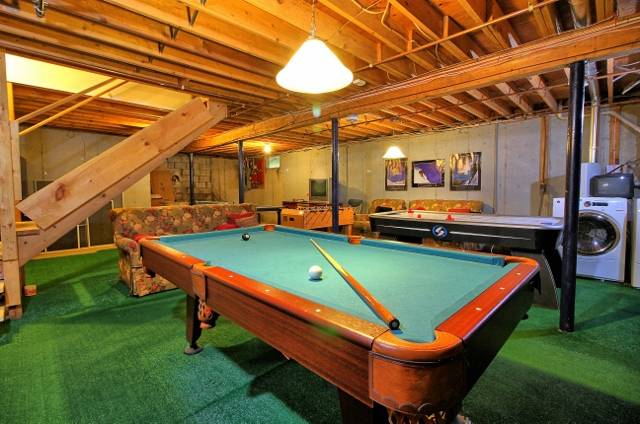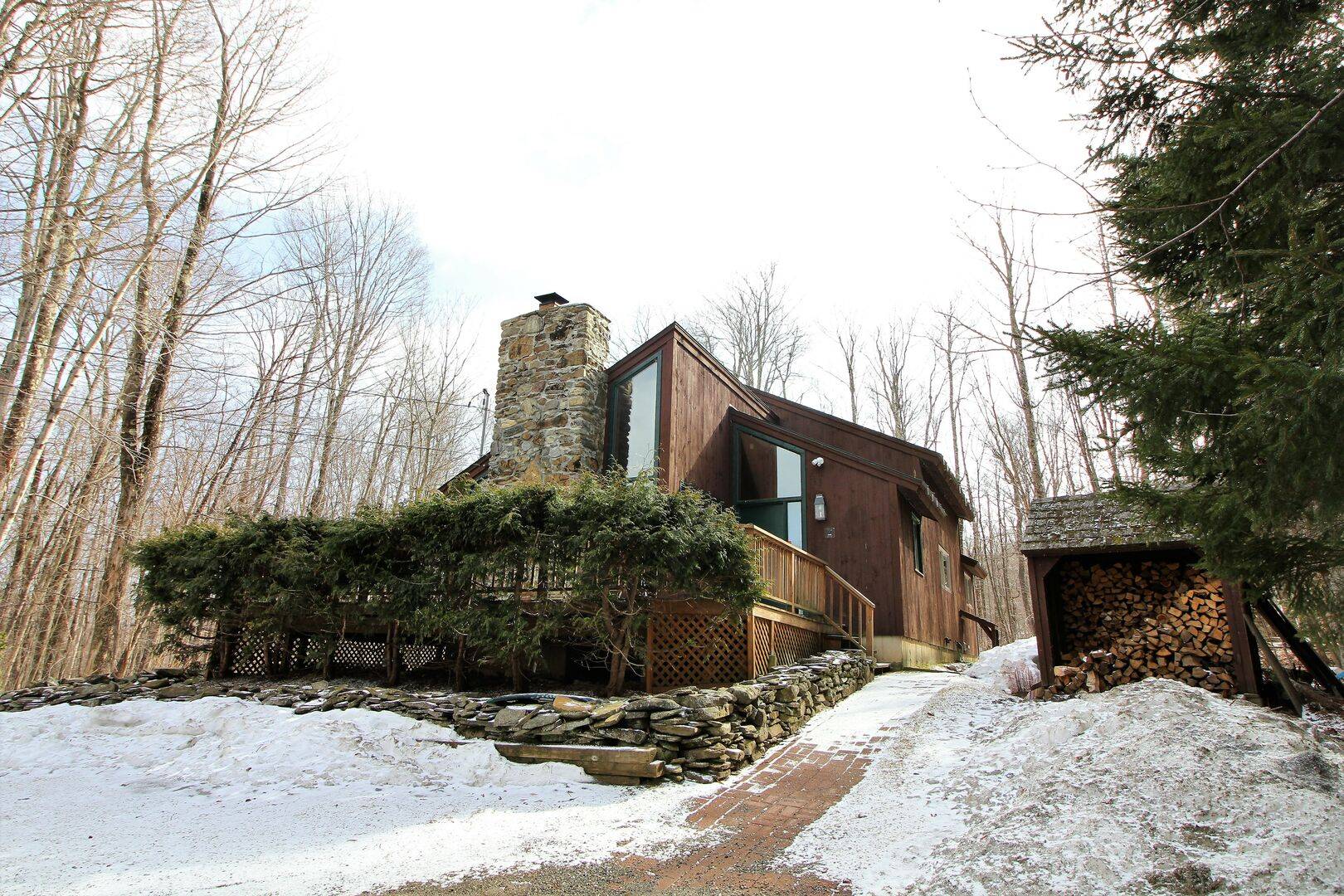 Availability
Key

| | | | | | | | |
| --- | --- | --- | --- | --- | --- | --- | --- |
| # | Night Available | # | Night Unavailable | # | Arrive Only | # | Depart Only |
January 2022
Su
Mo
Tu
We
Th
Fr
Sa

1




2




3




4




5




6




7




8




9




10




11




12




13




14




15




16




17




18




19




20




21




22




23




$599

/nt

24




25




26




$599

/nt

27




28




29




30




$599

/nt

31




$599

/nt
February 2022
Su
Mo
Tu
We
Th
Fr
Sa

1




$599

/nt

2




3




4




5




6




$599

/nt

7




$599

/nt

8




$599

/nt

9




$599

/nt

10




$599

/nt

11




12




13




14




$599

/nt

15




$599

/nt

16




$599

/nt

17




18




19




20




21




22




$699

/nt

23




24




25




26




27




$599

/nt

28




$599

/nt
March 2022
Su
Mo
Tu
We
Th
Fr
Sa

1




$599

/nt

2




$599

/nt

3




4




5




6




$599

/nt

7




$599

/nt

8




$599

/nt

9




$599

/nt

10




11




12




13




14




$599

/nt

15




$599

/nt

16




$599

/nt

17




$599

/nt

18




19




20




$599

/nt

21




$599

/nt

22




$599

/nt

23




$599

/nt

24




25




26




27




$499

/nt

28




$499

/nt

29




$499

/nt

30




$499

/nt

31




$499

/nt
April 2022
Su
Mo
Tu
We
Th
Fr
Sa

1




$699

/nt

2




$699

/nt

3




$499

/nt

4




$499

/nt

5




$499

/nt

6




$499

/nt

7




$499

/nt

8




$699

/nt

9




$699

/nt

10




$499

/nt

11




$499

/nt

12




$499

/nt

13




$499

/nt

14




$499

/nt

15




$699

/nt

16




$699

/nt

17




$499

/nt

18




$499

/nt

19




$499

/nt

20




$499

/nt

21




$499

/nt

22




$699

/nt

23




$449

/nt

24




$349

/nt

25




$349

/nt

26




$349

/nt

27




$349

/nt

28




$349

/nt

29




$449

/nt

30




$449

/nt
May 2022
Su
Mo
Tu
We
Th
Fr
Sa

1




$349

/nt

2




$349

/nt

3




$349

/nt

4




$349

/nt

5




$349

/nt

6




$449

/nt

7




$449

/nt

8




$349

/nt

9




$349

/nt

10




$349

/nt

11




$349

/nt

12




$349

/nt

13




$449

/nt

14




$449

/nt

15




$349

/nt

16




$349

/nt

17




$349

/nt

18




$349

/nt

19




$349

/nt

20




$449

/nt

21




$449

/nt

22




$349

/nt

23




$349

/nt

24




$349

/nt

25




$349

/nt

26




$349

/nt

27




$499

/nt

28




$499

/nt

29




$399

/nt

30




$399

/nt

31




$349

/nt
June 2022
Su
Mo
Tu
We
Th
Fr
Sa

1




$349

/nt

2




$349

/nt

3




$449

/nt

4




$449

/nt

5




$349

/nt

6




$349

/nt

7




$349

/nt

8




$349

/nt

9




$349

/nt

10




$449

/nt

11




$449

/nt

12




$349

/nt

13




$349

/nt

14




$349

/nt

15




$349

/nt

16




$349

/nt

17




$449

/nt

18




$449

/nt

19




$349

/nt

20




$349

/nt

21




$349

/nt

22




$349

/nt

23




$349

/nt

24




$449

/nt

25




$449

/nt

26




$349

/nt

27




$349

/nt

28




$349

/nt

29




$349

/nt

30




$349

/nt
July 2022
Su
Mo
Tu
We
Th
Fr
Sa

1




$499

/nt

2




$499

/nt

3




$399

/nt

4




$399

/nt

5




$349

/nt

6




$349

/nt

7




$349

/nt

8




$449

/nt

9




$449

/nt

10




$349

/nt

11




$349

/nt

12




$349

/nt

13




$349

/nt

14




$349

/nt

15




$449

/nt

16




$449

/nt

17




$349

/nt

18




$349

/nt

19




$349

/nt

20




$349

/nt

21




$349

/nt

22




$449

/nt

23




$449

/nt

24




$349

/nt

25




$349

/nt

26




$349

/nt

27




$349

/nt

28




$349

/nt

29




$449

/nt

30




$449

/nt

31




$349

/nt
August 2022
Su
Mo
Tu
We
Th
Fr
Sa

1




$349

/nt

2




$349

/nt

3




$349

/nt

4




$349

/nt

5




$449

/nt

6




$449

/nt

7




$349

/nt

8




$349

/nt

9




$349

/nt

10




$349

/nt

11




$349

/nt

12




$449

/nt

13




$449

/nt

14




$349

/nt

15




$349

/nt

16




$349

/nt

17




$349

/nt

18




$349

/nt

19




$449

/nt

20




$449

/nt

21




$349

/nt

22




$349

/nt

23




$349

/nt

24




$349

/nt

25




$349

/nt

26




$449

/nt

27




$449

/nt

28




$349

/nt

29




$349

/nt

30




$349

/nt

31




$349

/nt
September 2022
Su
Mo
Tu
We
Th
Fr
Sa

1




$349

/nt

2




$499

/nt

3




$499

/nt

4




$399

/nt

5




$399

/nt

6




$349

/nt

7




$349

/nt

8




$349

/nt

9




$449

/nt

10




$449

/nt

11




$349

/nt

12




$349

/nt

13




$349

/nt

14




$349

/nt

15




$499

/nt

16




$499

/nt

17




$499

/nt

18




$349

/nt

19




$349

/nt

20




$349

/nt

21




$349

/nt

22




$349

/nt

23




$449

/nt

24




$449

/nt

25




$349

/nt

26




$349

/nt

27




$349

/nt

28




$349

/nt

29




$349

/nt

30




$449

/nt
October 2022
Su
Mo
Tu
We
Th
Fr
Sa

1




$499

/nt

2




$499

/nt

3




$349

/nt

4




$349

/nt

5




$349

/nt

6




$399

/nt

7




$499

/nt

8




$449

/nt

9




$499

/nt

10




$499

/nt

11




$349

/nt

12




$349

/nt

13




$399

/nt

14




$499

/nt

15




$499

/nt

16




$499

/nt

17




$349

/nt

18




$349

/nt

19




$349

/nt

20




$399

/nt

21




$499

/nt

22




$499

/nt

23




$499

/nt

24




$349

/nt

25




$349

/nt

26




$349

/nt

27




$399

/nt

28




$499

/nt

29




$499

/nt

30




$499

/nt

31




$349

/nt
November 2022
Su
Mo
Tu
We
Th
Fr
Sa

1




$349

/nt

2




$349

/nt

3




$349

/nt

4




$449

/nt

5




$449

/nt

6




$349

/nt

7




$349

/nt

8




$349

/nt

9




$349

/nt

10




$349

/nt

11




$449

/nt

12




$449

/nt

13




$349

/nt

14




$349

/nt

15




$349

/nt

16




$349

/nt

17




$349

/nt

18




$449

/nt

19




$449

/nt

20




$349

/nt

21




$349

/nt

22




$349

/nt

23




$699

/nt

24




$699

/nt

25




$699

/nt

26




$699

/nt

27




$399

/nt

28




$499

/nt

29




$499

/nt

30




$499

/nt
December 2022
Su
Mo
Tu
We
Th
Fr
Sa

1




$499

/nt

2




$699

/nt

3




$699

/nt

4




$499

/nt

5




$499

/nt

6




$499

/nt

7




$499

/nt

8




$499

/nt

9




$699

/nt

10




$699

/nt

11




$499

/nt

12




$499

/nt

13




$499

/nt

14




$499

/nt

15




$499

/nt

16




$699

/nt

17




$699

/nt

18




$599

/nt

19




$599

/nt

20




$599

/nt

21




$599

/nt

22




$599

/nt

23




24




25




26




27




$1,299

/nt

28




$1,299

/nt

29




$1,299

/nt

30




$1,299

/nt

31




$1,299

/nt
Reviews
Leave a Review
Beautiful Large Place
November 2020
Michael Onkst
The place was very large and spacious which is what we needed, it had a lot of things to do inside so when we weren't snowboarding we could do things inside to entertain ourselves and it was peaceful which is another plus for a quick company getaway. There were only 2 issues: fireplace was smoking into the room, not drawing up the flue, so that was very disappointing and the upstairs bathroom didn't work from the day we got there. It would not flush at all the whole time we were there!! No matter how many times we tried to plunge it and that was even before anyone used it!!!
Killington
September 2020
Ryan Haines
Great time...house is in a perfect location you could get to the whole town. Game room in the house was our main draw.
Good
July 2020
Sridhar Boddula
we had group of 12 people stayed, it was nice property, great location, great value for the price, had good time staying there. property was little old, but cleaned very well. property doesn't have A/C, so it's hot in summer. overall I would recommend this property.
Great spot, great stay
3rd property stay with this firm and each time has great. Property was fine for what you'd expect for a killington rental. recommend.
Wonderful snowboard trip getaway
House accommodated our group of 13. Game room was awesome. I highly recommend. Hot tub was great.